BMS, a solution to face the future
The design and the deployment of a Smart Building ready application allows users to be involved in reducing the environmental impact of the facility through a better energy management system, benefiting from the quality of information transmitted automatically via Smart Mobile applications.
To address the critical issues of the coming years, the historical data analysis capability and real-time events of PcVue Solutions will help contribute to the maintenance of user comfort and improved performance while ensuring compliance costs and regulatory compliance for infrastructures.
By its ability to interface with heterogeneous industrial systems, PcVue Solutions ensures interoperability between disparate technical aspects of the building management system with one simple application. Its scalability making it easy to implement and maintain through its modeling tools.
Moreover, our web based HTML5 solution, WebVue, provides a remote access to your application, displaying the dashboard on every mobile device, offering a greater flexibility to the control system and to the operator.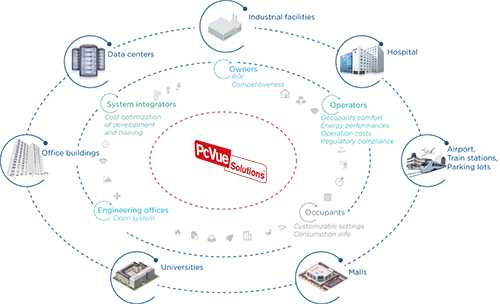 Integration with the Building Information Model (BIM)
PcVue is one of the first Building Management Systems worldwide that features a full-scale BIM integration.
Its 3D BIM viewer is fully integrated with the powerful PcVue HMI. Just like with conventional 2D and 3D mimics all elements of the BIM can be animated with the 60+ standard animations in the user friendly PcVue graphical editor, therefor allowing for colorization, alarm indication, popup mimics and much more.
The BIM is accessible from the PcVue scripting engine as well.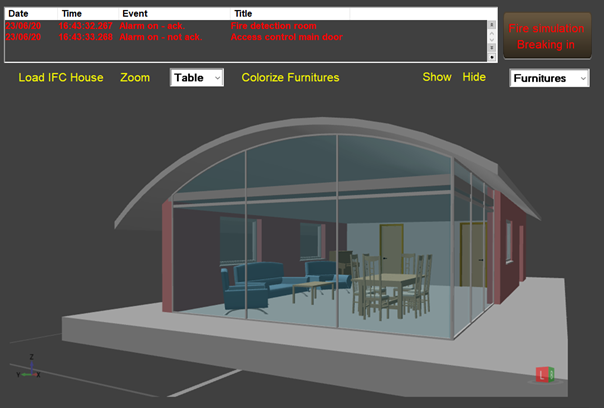 Importing the BIM into your PcVue project follows familiar and well established patterns from the PcVue universe: A simple and intuitive Smart Generator guides you through the process of importing the BIM and associating its elements with Application Architect object instances.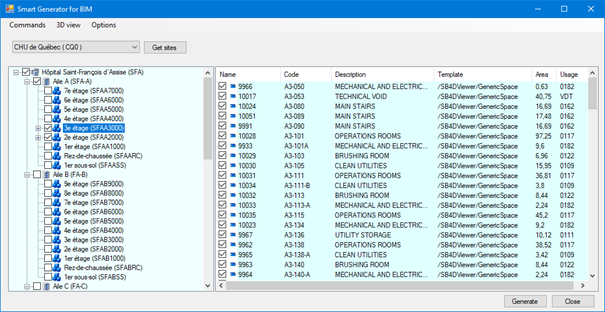 As a matter of fact, thanks to the PcVue BIM integration you gain seamless access to all BIM enabled smart objects inside an IP500 IOT network automatically.
Benefits of a Building Management System
Manage one or several intelligent buildings in a centralized and cohesive manner
Ensure occupants' comfort and safety in all circumstances (HVAC, alarms, elevators…)
Guarantee proper functioning and durability through efficient maintenance
Optimize the return on investment while ensuring regulatory compliance
Run an open and scalable system that adapts to changes at lower cost
Connect all BMS components thanks to an improved connectivity using our Universal Connector solution (Technical Management, Billing, CMMS, Occupancy…)
PcVue Features
Monitoring solutions for all technical aspects of the building
Intuitive graphical interface for monitoring and control of facilities, locally or remotely
Monitoring and analysis of real-time performance
Native support for standard protocols BACnet™, LonWorks™, KNX, Modbus®, SNMP, OPC…
IoT device integration on LoRaWAN and IP500
Optimized management of alarms and events
Data archiving locally or in the cloud in DSaaS mode
Advanced data analysis
Single development platform featuring an intuitive configuration environment
Assured interoperability with all building management services
Building Information Model ready: BIM Viewer and BIM Smart Generator
Fully automated, IoT-connected Machine-2-Service Platform
Sensfix' s Machine-2-Service platform (on-cloud or on-premise) provides web/mobile Apps to different human stakeholders in any building or facility connecting them collaboratively to third-party IoT sensors, IoT applications and leverages AI to directly integrate the predictive intelligence from IoT into Operations & Maintenance workflows.
It enables physical assets to self-schedule/dispatch jobs, launch service-tickets on their own and allows a transparent, traceable and tamper-proof monitoring of tasks for all stakeholders in real-time. sensfix's sens-Facility suite allows manufacturing facilities to –
reduce the "time to fix" by an additional 50% over the existing solutions (Field Service Management or Enterprise Asset Management or Service Lifecycle Management) by fully automating several key steps which require manual or semi-automatic intervention
reduce the repair and maintenance cost up to 30% by providing one-stop software solution, first time correct diagnosis and higher success rate.
increase the productivity of repair and maintenance crew up to 15% by tightly integrating real-time audio/video into workflow; and combining task prioritization with route-optimization and inventory Management.
Using sensfix SaaS platform, facility managers (or Operations & Maintenance managers) can fully digitalize their workflows to enable assets & devices under their management to – self-schedule, self-ticket and self-manage their repair & maintenance instantaneously and automatically. This leads to automated dashboard-less operations, machine-initiated real-time service ticketing and further facilitates the integration of downstream AR/VR based mobility solutions.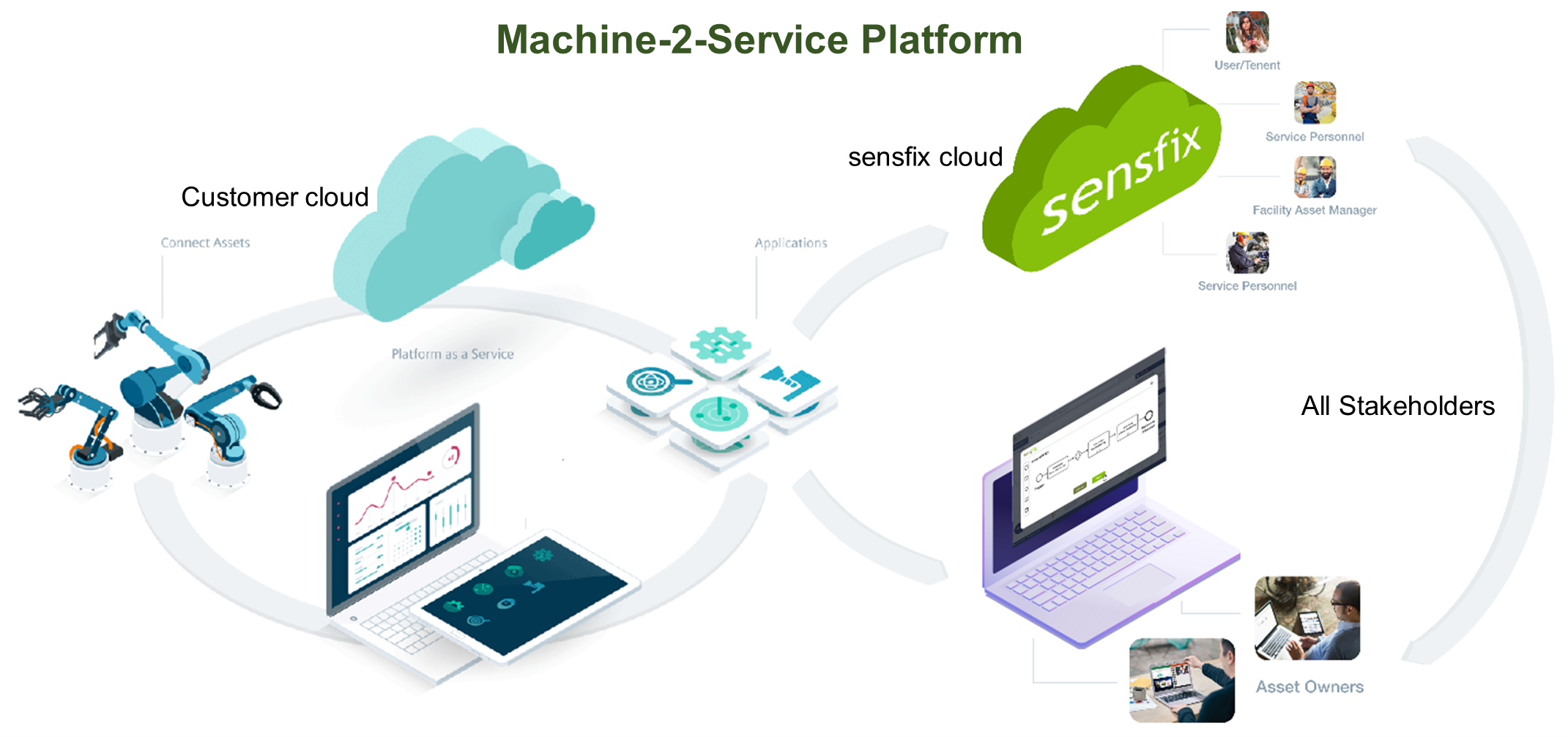 Sensfix' s offering includes the following —
AI driven workflow orchestration and automation engine
Predictive maintenance and automated triggering of service workflows for industrial motors
Restful APIs for integrating sensfix cloud (or on-premise) into the customer's cloud (or on-premise).
Restful APIs for sensfix' s universal, secure and scalable IoT platform that onboards new IoT applications automatically.
Sensfix has tie-ups with providers across the value-chain (OEMs, Distributors, System Integrators, Contractors, Installers etc.). Its strategic partnerships to upsell/cross-sell to Medium/Big enterprises include  – i) several leading German OEMs, ii) A global leader in Engineering engaging with their EV Charging Division, iii) A Global Oil & Gas MRO (Maintenance, Repairs & Operations) company,  iv) A Global Facility Management Group in Prop Tech and v) a European Energy & Utilities company for Energy sector.

Key Differentiation of sensfix over other competitor solutions:
~ 50% workflow reduction by fully automating several steps Self-learning workflows that optimize & evolve using ML/AI
Transparent, Traceable and Tamper-proof monitoring of tasks in real-time by all stakeholders of repair & maintenance business process enabled by Blockchain
Deeper integration of audio-video links into the workflow to enhance crew-productivity

Product Photos