With complex construction projects challenging to manage, the use of reality capture solutions for site management is increasingly important to effectively assess existing conditions, track progress, plan operational changes, and collaborate virtually.
Laser scanning and 360° photo capture represent the most efficient and accurate technologies today for reality capture. They are characterized by fundamentally different approaches and strengths, but they similarly offer incredible value throughout the entire project lifecycle.
But, which of these technologies should you use, and at what stage of the project?
FARO® Technologies, a 40-year global leader in 3D measurement, imaging, and realization solutions and its recently acquired subsidiary HoloBuilder, a pioneer of Construction Progress Management powered by 360° photo capture, provide the answer utilizing their solutions for the entire building lifecycle.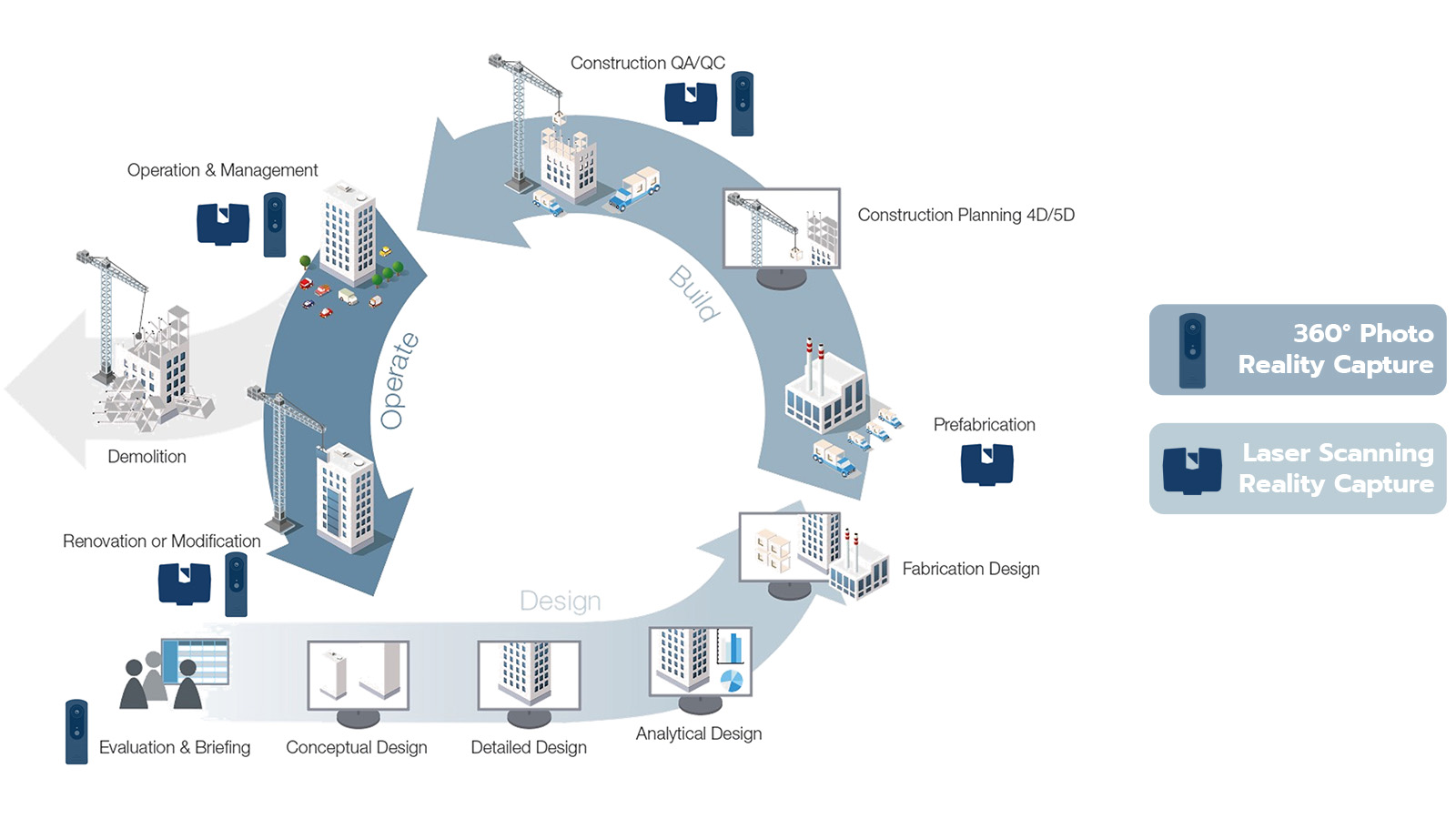 360° Photo Capture: High-Speed Visual Site Documentation
Unlike standard 2D photos, 360° photos are spherical panoramas that capture entire surroundings within one photo (up, down, left, right, front, back). Using a 360° camera is the easiest way to take a 360° photo. By using 360° photo viewing software, users can navigate this captured environment in an immersive way. A Construction Progress Management platform like HoloBuilder allows users to not only view the photo but to organize, review, add additional information and collaborate around this 360° environment.
The major benefits for using 360° photo capture are speed and immediate visual feedback.
These attributes, along with having the data immediately available through enterprise-grade online storage, encourage higher frequency site data capture, and increased collaboration by offsite project stakeholders.
Key benefits
• Fast and easy
• Access to immediately available visual data within a secure enterprise-grade environment
• Low barrier to entry
• Facilitate large-scale project collaboration quickly and efficiently
Laser Scanning: Engineering Level Accuracy
3D laser scanners allow for the recording of surfaces in three dimensions. This 3D data includes the shape, orientation, and position of objects. A laser scanner uses LiDAR (Light Detection and Ranging) technology to create a 3D representation of the environment in the form of a 3D point cloud. Tools like FARO® Scene Software allow for the efficient processing of these data-rich 3D point clouds. Once processed, users can create stunning 3D visualizations of real-world objects to evaluate the data in an immersive way.
Where laser scanning shines is in its ability to capture various as-built site conditions with millimeter accuracy. This data is used for comparative analysis between design intent and the as-built. Examples include checking floor flatness, wall plumpness, and steel deformations.
Key benefits
• View high-level accuracy for precision details like floor flatness
• Create a highly accurate 3D representation of the scanned environment
• Easily compare BIM models to scan results
• Convey information to off-site fabrication teams with millimeter accuracy
Want to learn more about how to choose the right reality capture solution for each stage of the project's lifecycle?
Visit FARO & HoloBuilder at their joint booth #130 at BIM World MUNICH 2021 and to prepare your visit, watch the webinar Leveraging 360° Photo Capture & Laser Scanning Together today!