IP500 redundant Infrastructure
With the IP500 wireless network a robust, secure, scalable and redundant IoT network can be set up. This offers the possibility to address many applications in the field of commercial buildings as well as industrial facilities.
The IP500 IoT wireless network is certified for high security applications such as fire alarms, light switches and access control.
This requires high reliable communication hardware that is equipped for a wide range of application scenarios. DAFÜR develops therefore three different components to build up this network. For external and interior communication as well as access to services the IP500 IoT wireless network trust on reliable components developed and delivered by DAFÜR. Three components are forming the IP500 IoT wireless network backbone.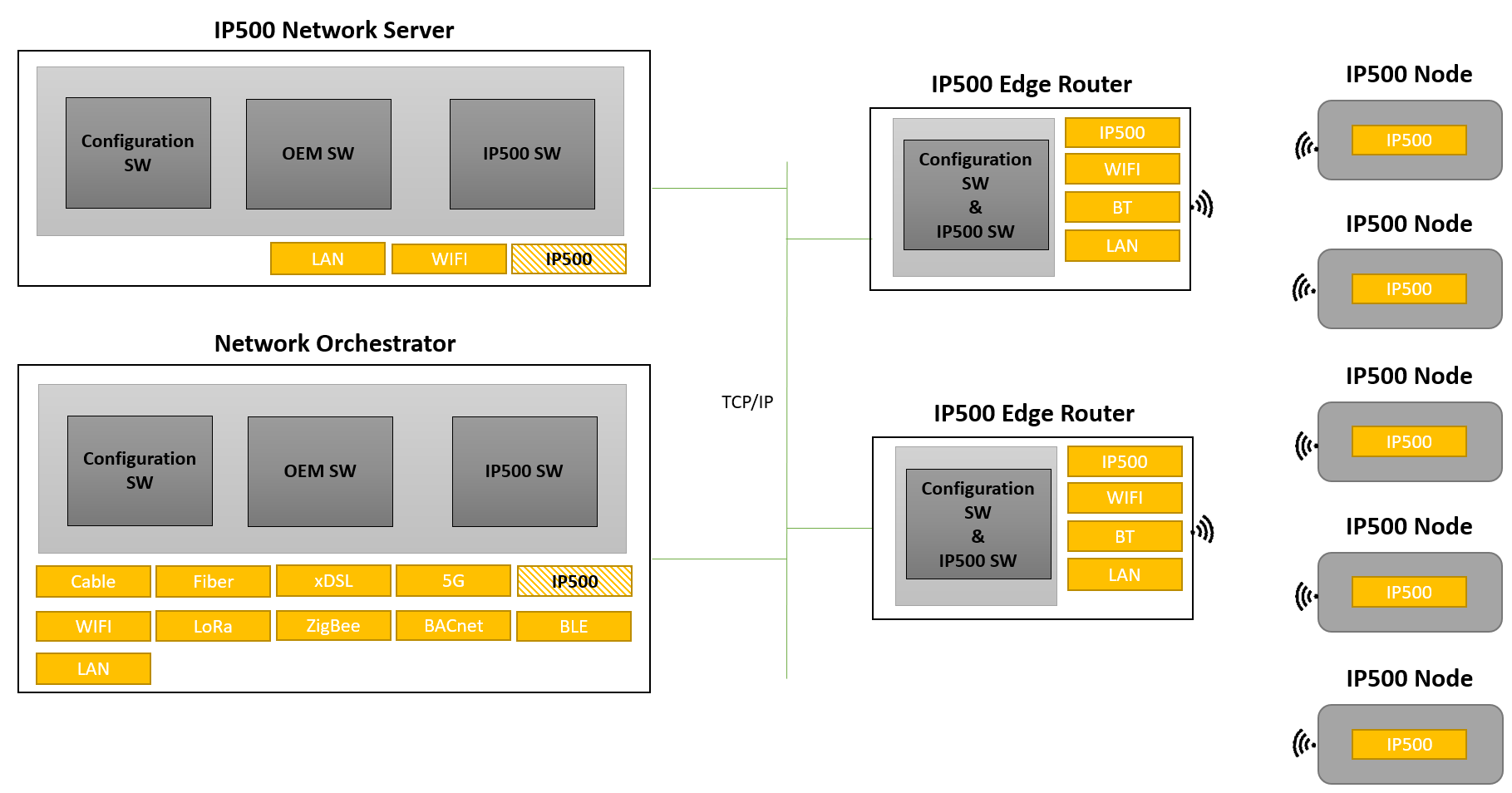 IP500 Edge Router
The IP500 Edge Router is the heart of the IP500 network. It is the transition point of the IP500 wireless network to the wired network.
The built-in IP500 module builds the wireless network and connects to the sensors of individual components and other fully functional devices. With its dual-band capability (2.4 GHz / 868 MHz), it changes the frequency band as required.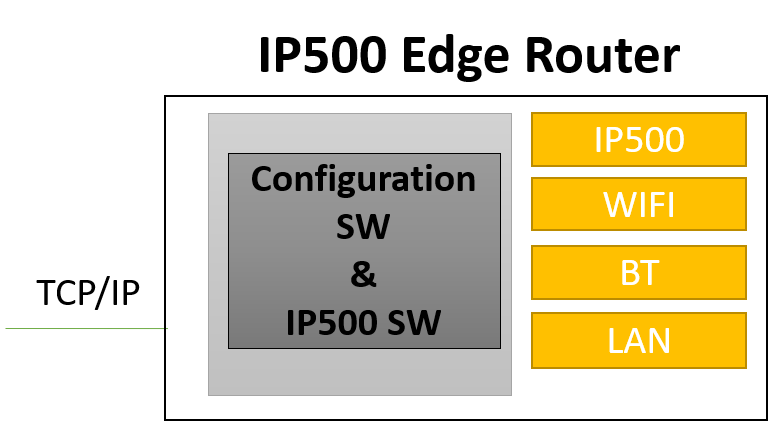 The installation of the IP500 Edge Router requires no user intervention at the installation location thanks to the integrated Auto Installer, the configuration is automatically obtained from the IP500 Network Server or the Network Orchestrator.
The integrated client software connects to the IP500 Network Server.
At the same time, the system meets increased security requirements, as all communication is encrypted. The required keys are also obtained from the IP500 Network Server or Network Orchestrator but are not permanently stored on the system.
IP500 Network Server
The IP500 Network Server manages and configures the IP500 network components. As a highly available system, it is designed with redundancy.
This ensures safe operation of the IP500 network, which also tolerates the failure of individual devices. It can also be integrated into the internal building network either wired or wireless.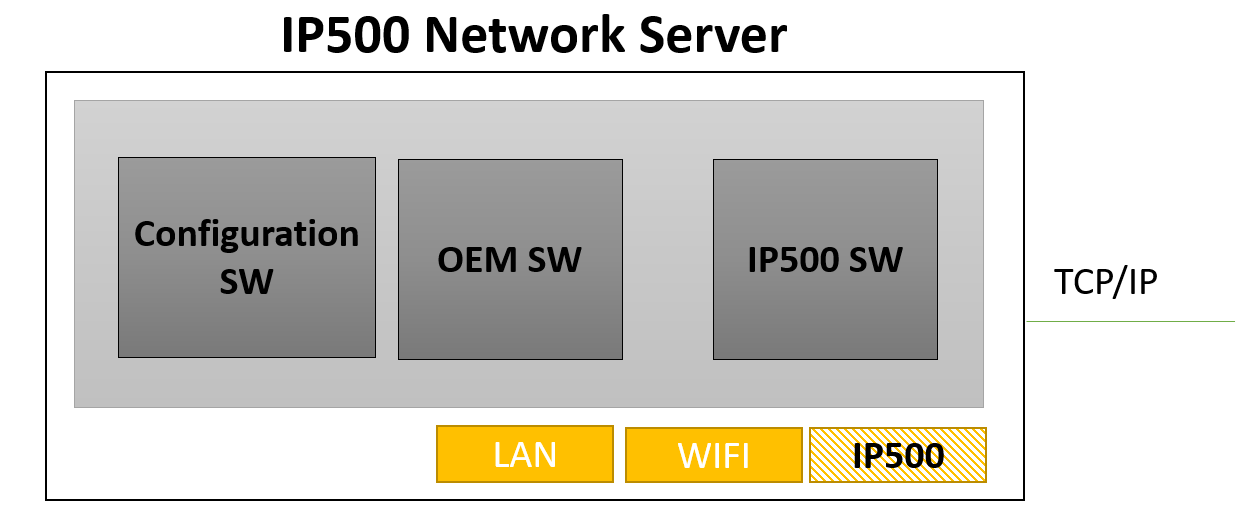 In addition, other OEM applications such as the Building Management System can be operated on the hardware.
The IP500 Network Server can also be configured remotely using Zero-Touch Provisioning and does not require any additional work. This speeds up the rollout of the entire installation.
Network Orchestrator
The Network Orchestrator is the link between internal building communication and external services and adds additional functions to the IP500 Network Server.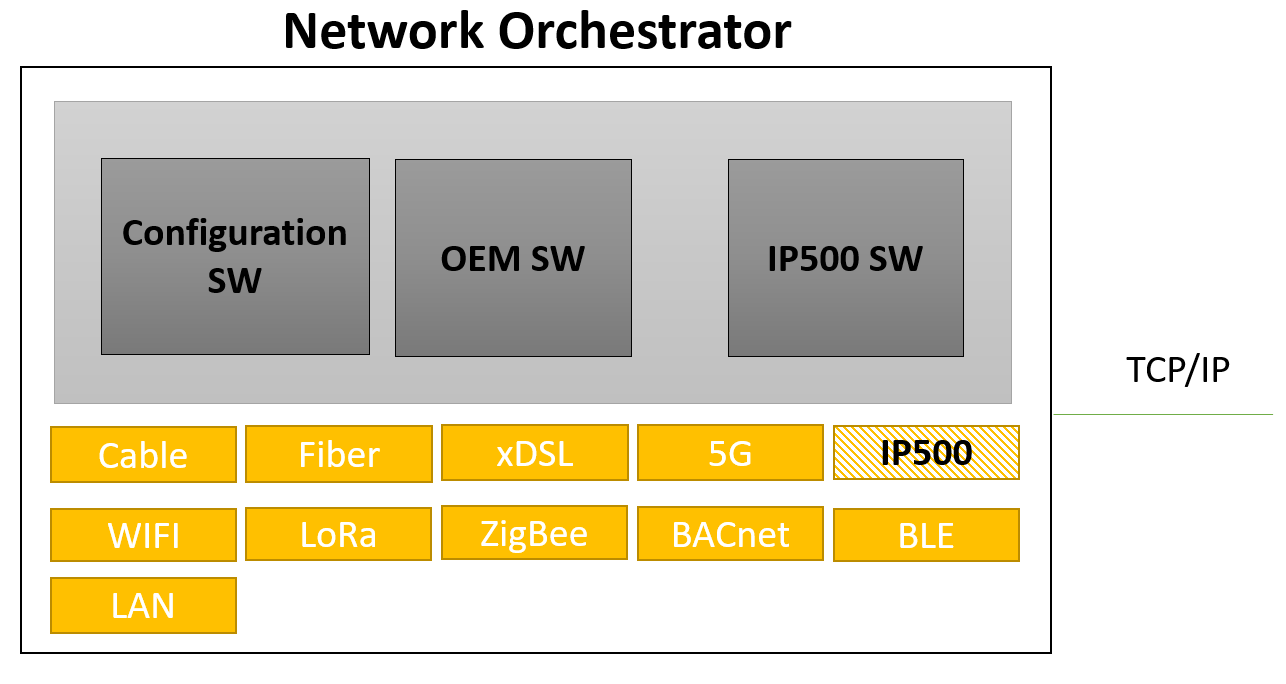 It is designed for use in operation and safety-critical infrastructures with application areas such as Smart Factory, Smart Building and Smart City.
It connects the local network of technical objects equipped with sensor technology via the Wide Area Network (WAN) with services that are available locally or in cloud structures. The BBC combines common building communication standards such as IP500, BACnet, LoRa, Zigbee and EnOcean to ensure a secure and highly available connection.
DAFÜR GmbH

The DAFÜR GmbH was founded in 1984.
Since 1989 DAFÜR is already active in the Europe-wide payment traffic. In Germany today, about 91 percent of all online payment transactions are processed via our PCI-compliant systems, in Europe about 13 percent.
DAFÜR has 25 years of experience in building systems with fiber optic systems.
In addition, DAFÜR is the operator of the largest European infrastructure project, the Federal German toll system on 40,000 km of federal roads.
Our products are "Made in Germany", i.e. without backdoors and compliant with PCI, DSGVO and the recommendations of the BSI.
Build your business-critical infrastructure on the highest possible security, availability and stability:
Also as a central communication unit of toll systems, ATMs, in branch structures or the housing industry: our highly available systems are increasingly in demand by manufacturers and system integrators of security-critical infrastructures (KRITIS).
Enabling new IoT infrastructure with umlaut
Consider a world in which each device, each machine, each step of a process has its digital twin somewhere. This transformation is happening right now. Connectivity is exceeding the realm of the internet and including more and more everyday objects and devices by the day.
But digitalization is more than just digitizing sensors and machines. And pushing data to the cloud alone will not digitally transform your business.
umlaut is already supporting brand new IoT use cases by focusing on existing gaps throughout industries which IoT solutions are successfully closing. Experts from non-telco industries must now be able to understand the telecommunication world in order to design their robust applications and solutions for the market. Such knowledge gaps can only add to the generally high risk for the early adopters.
umlaut enables meaningful end-to-end IoT solutions. umlauts interdisciplinary and cross-industrial teams guide their clients through effectively all the way from concept to implementation to operations.
umlaut is supporting global IoT roll-outs already. We use our market experience to help address the specific market needs in the IoT segment – especially in areas where we see technologies have not been addressed properly so far. In this field we identified IP500 based as a new and promising candidate for industrial applications and commercial buildings. The IP500 IoT platform combines and fulfils required characteristics of the IoT market focusing here on security, robustness and high performance.
At BIM-World we would be pleased to share and discuss these experiences with you.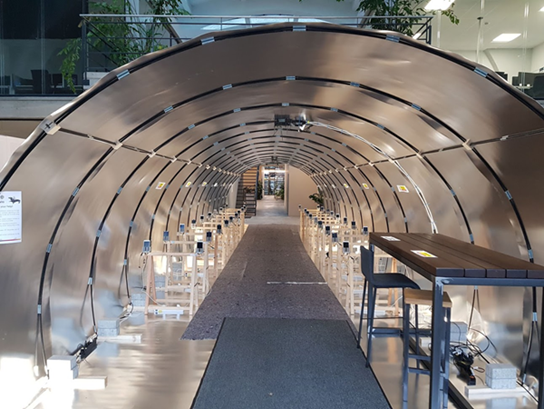 Testing IP500 in a canopy in the dimension of an aircraft cabin.
Are you planning to integrate a new IoT network technology in order to digitize your industrial plant, your commercial building, city or community infrastructure?  Or are you just before enabling your IoT devices to join new network technologies – umlaut advises and develops with you new concepts for implementation during solution design phase. Furthermore, umlaut performs testing and certifications activities for different network-technologies and its devices. Finally, umlaut integrates the final solution by knowing the local specifics of the planned roll-out. After the implementation we will also proceed by supporting the parties to perform active monitoring, e.g. operational maintenance.
For further details, please see the following slides:
Who is umlaut SE?
umlaut SE is a global, full-service, cross-industry, end-to-end company that offers advisory and fulfilment services to clients all over the world. Our interdisciplinary capabilities enable us to add value, quality and focus to their organisations and produce. We are an able and agile group of consultancies and engineering firms. 4,500 specialised experts and engineers provide innovative solutions across all industries and their various intersections as well as serving the public sector and developing organisational cultures, structures and processes.